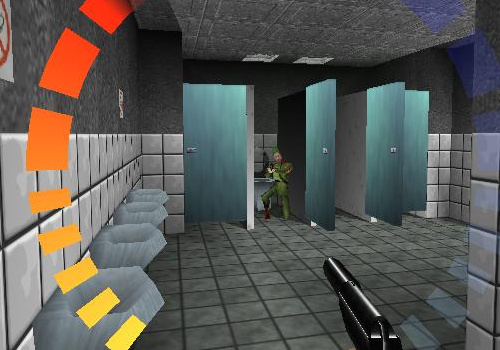 And so we leave the feelings of betrayal behind and return to the warm bosom of Nintendo and for my money the single greatest console of all time:
All hail The Nintendo 64!
My personal highlights with this bad boy are extensive so apologies if I miss your favourite. Mario 64 was of course a revelation. It takes a huge effort to make a single player game (not involving Spider-Man) good enough for me to want to play through start to finish but this is so endlessly inventive and fun that I couldn't help myself. Mario Kart 64 represented a similar evolution from the Super Nintendo concept. Zelda is still revered by gamers everywhere and rightly so. 
The popularity of the console also coincided with Wrestling being the big thing on the playground. There were some early missteps but as soon as THQ picked up the license we had a fun and safe way to smash our each other's brains out. WWF Wrestlemania 2000 was one of the first games to allow real customisation of your character giving an all new dimension to hour long multiplayer ladder matches (They were really hard). 
My favourite game on the console and possibly my favourite game of all time is of course Goldeneye. Who wouldn't want to be James Bond? Who wouldn't want to be Pierce Brosnan even?! The single player game let you play the movie in the kind of detail I hadn't really experienced before (Helps it's my favourite Bond film) but multiplayer mode was where it really came into its own. Whether you were playing Stealth mode with The Golden Gun or planting crazy mine death traps for your opponents you couldn't help but be drawn in. Yes there are games with better graphics but I don't think Bond can ever be replaced in my heart. The stairs up to my flat look a bit like the library level and it fills me with joy every time I walk up them.
Lesson - Customisation is good. 
Lesson - Level design is everything. 
Next… Teenage kicks.